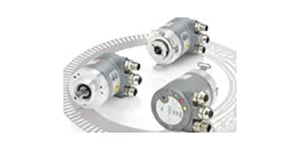 Kübler's absolute multiturn encoders have won for themselves a market-leading position thanks to their top-class technical performances. Both the "Most compact multiturn encoder with through hollow shaft" as well as the "Multiturn encoder with the highest shock and vibration resistance" originate from the Kübler company. Now there is a new addition to this wide-ranging multiturn family: a simplified standardised version that makes access to multiturn technology easier for the user - from a financial aspect too.
The Standard Line offers everything that the majority of users in the automation industry require from a top-level device. This includes the high resolution of 12 x 13 Bit (8192 pulses per revolution and 4096 revolutions), speeds up to 6000 revolutions per minute as well as high pulse frequencies of up to 500 kHz. However these standard encoders from Kübler have even more to offer: their compact design (including shaft clamping) means only 40.5 mm clearance is needed, so defying even the tightest installation spaces. Additional advantages are to be found in the through hollow shaft, the very high shock and vibration resistance and the non-contact multiturn stage that is ideally suited to the most dynamic applications. Export-oriented manufacturers will benefit from the relevant UL certification provided.
Kübler's absolute multiturn encoders are based on a patented technological platform. Just as with the top-of-the-range devices, which satisfy the user's every need when it comes to performance and variety, so with the standard line encoders the customer is provided here with technically sophisticated products. The huge success enjoyed in the market by its established products led the encoder specialist Kübler to make access to absolute multiturn technology financially attractive by means of its entry-level Standard Line. At the same time, in using the standard products the customer is laying the foundations for future requirements that demand greater performance and wider capabilities.
Additional members of the multiturn family also allow for straightforward substitution. This is the case both for the fully-programmable devices as well as for the 'Combi' devices, which combine both an incremental encoder as well as an absolute multiturn encoder within a single housing. If the devices also have to perform distributed control tasks, then models are available with additional control outputs. Intelligent mounting solutions, perfect connection technology and competent advice complete the offer.