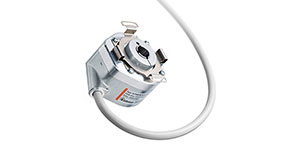 The challenge, in the drive technology, is to develop increasingly compact drives - which nevertheless have to show always higher performance, better dynamics and improved energy efficiency. This leads to new requirements also for the encoders. The new requirement, besides accuracy, robustness and reliability, is "the more compact, the better". To allow designing more compact drives, also the encoder solution must be adapted accordingly.
This is why Kübler developed a totally new product - the Sendix F5883 in the Motor-Line version. An optical hollow shaft encoder with a mounting depth of only 43 mm. Compared with the multiturn encoder Sendix 5883 equipped with mechanical gear, this new version allows saving 27 mm. This is a milestone in an industry that has to house its components even in smallest gaps. This opens up new possibilities when dimensioning the geared motor and installing the encoder in tight mounting spaces.
The Sendix F5883 in the Motor-Line version is based on the mature Sendix platform, which stands for robustness and reliability. Thanks to the Intelligent-Scan technologyTM, this totally optical encoder is highly accurate and 100% insensitive to magnetic fields. This encoder has excellent EMC characteristics.
The wide range of interfaces such as SSI, BiSS, SinCos, RS422 and Push-Pull ensure flexible connection to the frequency converters.
Thanks to its robust bearing structure in Safety-LockTM design, this encoder is particularly resistant to installation errors, shocks and vibrations.
This encoder is available with a through hollow shaft of up to 15 mm and clamping on the A and on the B side. It is therefore the optimal solution for all usual geared motor drive shafts.
The reduced installation depth of 43 mm, combined with a tangential cable outlet, makes the encoder easy to install in tight mounting spaces, and therefore the optimal solution for compact integration. This will contribute to the widespread use of multiturn encoders in geared motors - same installation depths for absolute and incremental encoders now make it possible.