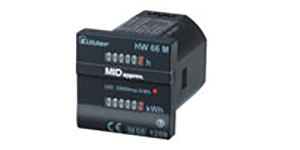 Kubler is introducing a completely new class of device class in the form of its HW 66 and SHW 76 meters: the combination of time and energy meter in a single device. Both energy consumption as well as operating hours are measured by the unique kWh/time dual display. Both values can be read off in parallel - in the electromechanical version this is even possible when no voltage is applied to the unit.
The combi-solution was specially developed for hire equipment and machinery that consume a large amount of energy, especially as accurate, traceable billing is of great importance here. As this type of hire equipment does not always run at full speed, then just simply counting the number of hours run will not fully reflect the actual costs that have been incurred. Hence the correct measurement of time and energy consumption in one device is the optimal solution for a transparent statement of costs.
The new time and energy meters from Kübler are available in two different versions, to suit the desired application. The HW 66 proves to be the ideal device when it comes to fixed installations. The SHW 66 with its electronic LCD count mechanism is designed for mounting on a DIN-rail.
The accuracy and safety of both meters are outstanding. Not only do they deliver accurate measurements but they are also capable of being officially calibrated and are non-resettable. Moreover the HW 66 is fully tamper-proof and displays both time and energy consumption even when no voltage is applied. This complies with PTB requirements. The DIN-rail version SHW 76 additionally offers connections that can be security sealed. A remote readout of kilowatt hours and time is possible via an option SO output.
Both of the new time and energy meters HW 66 and SHW 76 are identical in construction to existing hours-run meters, making them easy to use for substitution.