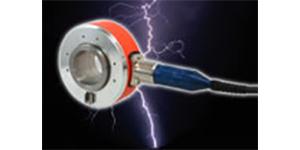 When encoders are used in environments, which are particularly prone to interference, then they need a connection system that ensures faultless data transfer even under adverse conditions. Kübler is therefore offering its new hybrid encoder cable so that potential troublemakers such as electromagnetic interference cannot disrupt or distort the signals from the encoder. This guarantees that the data to be transferred arrive safely and intact at their destination, even when long distances are involved.
The hybrid encoder cable exploits the advantages of fibre-optic technology in combination with the characteristics of a copper cable or connector. The electrical signal is converted in the connector into an optical signal and then transmitted for example using line driver (RS 422)- or even SSI-functionality. Flexible copper strands and optical fibres in the cable make for interference-free data transfer as well as a reliable power-supply via copper conductors.
The ingenious cable construction means that no special technical knowledge of fibre optics is required for connecting the cable - a major advantage for the user. Each cable matches the corresponding standard encoder plug and is connected just like traditional copper cables. No special cleaning of the connector is necessary, since there is no dirt build-up as in other fibre optic applications. Moreover the hybrid cable is 100 percent compatible with normal encoder cables.
The hybrid encoder cable can be used wherever there is a high degree of EMI pollution, such as can be found for example in the vicinity of high voltage installations and welding robots. Data can thus be transferred without interference over long runs of up to 1000 metres.
The cable is also the perfect answer in applications where the encoder has to be physically separated from the controller. Thanks to its heavy-duty outer jacket, the hybrid encoder cable remains unaffected by mechanical environmental conditions and thus benefits from increased reliability.