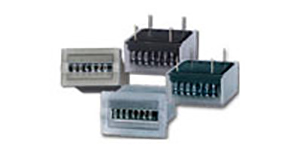 The patented K-series electromechanical micro counters from Kubler are the only such products on the market that are shockproof and at the same time 100 percent resistant to magnetic fields. They can be used in a wide variety of applications, for example in kWh meters and in medical equipment. The high shock resistance avoids false counts whilst the magnetic resistance rules out any manipulation. Many approvals in the field of medical technology or from the PTB (German National Metrology Institute) confirm the high quality of the units, manufactured fully automatically in Germany.
The counters have a digit height of 5mm. Their very competitive pricing and the absolute data integrity make these products a very interesting proposition. The counters have a very low power consumption of less than 70 mW and are thus ideal for direct mounting on the PCB. They are available in various versions, including a number of customised ones. They are wash-proof, can be wave soldered or can come with soldered-on flying leads in custom lengths.
Thanks to their high temperature stability it is possible to install them outdoors in temperatures ranging from -40°C up to +85°C. The units are available with 4 to 7 digits and can have connectors on the top, the bottom or on the side; alternatively they can be DIN-rail mounted. They can be powered from all common industrial DC supply voltages; AC models are also available. The hours-run meter versions can also detect short switching cycles. Modifications in line with a customer's wishes can range from simple changes to a product up to sub-assemblies incorporating other components. This frees up the customer to concentrate on his own core competences and allows for greater efficiency in the production process. Samples are available free-of-charge.
As an alternative to the electromechanical versions, LCD variants are now available - these benefit from EEPROM data backup. These devices are available with 6 or 7 digits, both as pulse counters as well as hours-run meters. They can handle count frequencies up to 10 kHz and can be electrically reset to zero. As well as versions for PCB mounting all units are also available for panel mounting.