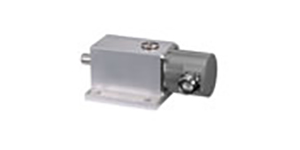 With its so-called "bearing block," Kübler has developed a quite specific solution for prolonging the service life of encoders.
The bearing block was designed for use especially in applications, where belts are used together with encoders. If the belt is stretched too tightly then the encoder bearings are soon overloaded, resulting in a substantial reduction in the service life of the encoder.
The bearing block - with its maximum bearing load of up to 600N - increases the maximum bearing load of the encoder several times over. To achieve this the bearing function and the sensor component are separated. The fixing dimensions are 100% compatible with most common encoders. In this way even encoders that have already been installed can be retrofitted.
Installation is quite simple with no adaptation being necessary. For systems where installation space is limited, there is a version for hollow shaft encoders - even when used with an absolute multiturn encoder an installation depth of just 70 mm is all that is required.