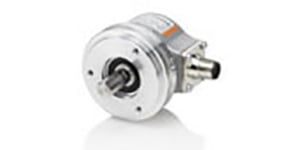 Kübler is setting new standards with its latest generation of incremental encoders. These versatile devices deliver high performance and offer the customer a wide spectrum of use as per the slogan "more compact, more varied and more sophisticated". The user can address a wide variety of applications using just one type of encoder thus avoiding the extra costs associated with special versions.
The encoders from the new SENDIX 5000 series are just 50mm in diameter and benefit from a compact design that means only limited mounting clearance is necessary. At the same the profile of the flange matches 58mm devices in a ratio of 1:1. The modular construction means the user can select just the right version for his particular application. Production costs are thus reduced whilst performance is increased.
This versatile modular system used in Kübler's 5000 series offers the user even more benefits: plant and machine manufacturers now only require one incremental encoder range to meet a whole host of application requirements. The new shaft and hollow shaft encoders can be modified in so many different ways that they can take care of almost every conceivable application. There is no longer any need for expensive custom versions. So, for example, the through hollow shaft version is designed for diameters of up to 15.87mm and not just for 12 or 14mm. Moreover these new devices are available also in US standard sizes and with all the interfaces commonly used in the US market. Neither is any requirement left unsatisfied when it comes to connection technology - the choice on offer includes competitively-priced M12 connectors, cables tailored to suit, M23 connectors and even MIL standard connectors. In addition the user has a wide choice of options for fixing and mounting.
Kübler's 20 years of experience can be clearly seen in these new SENDIX 5000 series devices. The extensive temperature range, from -40°C up to +85°C, addresses a wide range of applications where very low or fluctuating temperatures are to be found, as for example in vehicles. Increased shock and vibration resistance values (2500m/s2, 6 ms and 100 m/s2,10...2000 Hz) as well as a radial load capacity of 80N - atypically high for this size of encoder - ensure safe operation and a long service life. Even the through hollow shaft version with up to 15.87mm diameter is equipped with extremely sturdy bearings. Here many traditional encoders have had to make do with thin bearings, which demonstrate a much reduced product life.
The high IP67 protection rating refers not just to the housing but to the whole encoder, so ensuring that the devices have the best defence against ingress of dirt ,dust particles and liquids. Thanks to highly integrative opto-ASIC technology the electronics and optical sensing are reduced to just a few components, thus providing high immunity to EMC interference. A fast electronic pulse frequency of 300 kHz means dynamic applications are not a problem. Resolution is up to 3600 pulses per revolution.