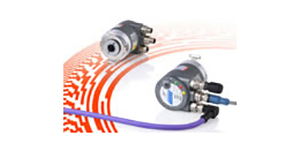 The new Profibus encoders are available either as singleturn with up to 16 bit resolution or multiturn with up to 28 bit resolution, all offering up-to-the-minute fieldbus performance in the application thanks to the latest Profibus-DPV0 profile and enhanced programming possibilities. Encoder profiles Class 1 and Class 2 are supported.
These encoders are characterised by their particularly fast speed:
-Fast data availability with reduced loading on the bus and controller, together with intelligent functions for rapid position detection and data provision to the Profibus.
-Fast, simple, error-free connection, thanks to a bus terminal cover with optimised connection technology, including standard M12 connectors.
-Fast start-up, thanks to a predefined GSD file, 3 diagnostic LEDs and a SET-key, as well as the simple parameter assignment of rotation direction, preset value ,diagnostic mode and a variety of scaling options for the number of steps per turn, the number of turns and the total resolution over singleturn/multiturn.
Galvanic isolation is provided by a DC/DC converter that is integrated in the bus stage. In addition, the encoders boast the proven features common to all Sendix encoders: a high degree of robustness thanks to their rugged 'Safety-LockTM Design' bearing construction and their sturdy die-cast housing, a high level of reliability thanks to the mechanical gear (in the multiturn version) as well as OptoASIC technology with very high integration density (Chip-on-Board). The encoders are well-equipped to deal with outdoor installation, benefiting from an IP 67 protection rating and a wide temperature range of -40°C to +80°C.