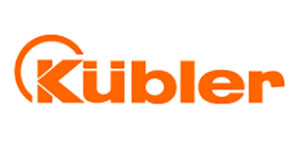 The new magnetic rings RI20 from Kübler, combined with the proven LIMES sensor head, offer a particularly compact incremental rotary measuring system, ideal for installation areas where space is very tight. With an installation depth of only 16mm the system is suitable for applications, where there is no more room even for miniature encoders. The non-contact technology means the system is particularly resistant to shock and vibration, whilst offering the additional advantage of total freedom from wear.
The solid housing and the high IP 67 protection rating allow for use in harsh environments. The system has an unbeatable price/performance ratio in applications with large shafts of up to 30mm and is completely unaffected by soiling caused by dust or fluids.
Resolutions of up to 1440 PPR and speeds of up to 15,000 RPM are possible. Push-pull or line-driver RS422 outputs are available.
Installation is carried out quickly and easily by pushing the ring onto the shaft and screwing it in place; the sensor head is positioned accordingly, with a tolerance for the distance between sensor head and ring of up to 1.0 mm and a maximum lateral off-set of +/- 1mm.