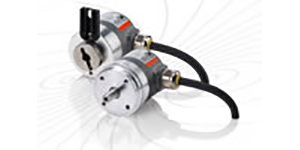 The rugged miniature 2400/2420 series of encoders from Kübler now also meet the more stringent standards EN 50121-3-2 and EN 61326-1 (commonly referred to as the 'railway standards'). These tiny incremental devices, available in either shaft or hollow-shaft versions and measuring only 24mm outside diameter, exceed the standard requirements of the EMC guidelines 89/336/EWG and satisfy the highest demands.
Compared to the standards that apply elsewhere in normal industrial applications, rail applications have particular requirements as regards electromagnetic compatibility. The use of overhead power lines and modern power electronics cause interference emissions across a wide band that can particularly affect control electronics. As many functions have to do with safety, it is imperative that the sensors function correctly even in difficult EMC environments. During extensive testing excellent results were obtained from these miniature devices from Kübler and since then they have been installed for example in trains to monitor the position of the doors.
Thanks to the use of highly integrated opto ASICs, Kübler has succeeded in manufacturing the devices with the option of a shaft as an alternative to the hollow-shaft version. The IP 64 protected encoders offer particularly high EMC resistance with their maximum speed of up to 12,000 rpm.
This allows high resolutions and high continuous rotation with a maximum pulse frequency of 160 kHz. Connections are protected against reversed polarity and short-circuits. The built-in ageing compensation ensures that even after many years the device puts out signals that have a clear phase shift of 90 degrees. The normal operating temperature is from -20C up to +85C - in special cases the range can be extended down to -40C .
The chromated housing is resistant to oil and acids. A special strain-relief system that does not just rely on a standard cable grommet but in addition offers multiple 6-times clamping ensures particularly high strain-relief of the cable.
In addition to applications on the railways these miniature encoders can be used in pick and place machines (SMT robots), handling machines for electronic components, quality testing machines, laser and inkjet printers, medical technology, mail stuffing machines, labelling machines or for controlling the camera in pipe-inspection machines.
As with most Kübler encoders, this encoder series benefits from UL approval.