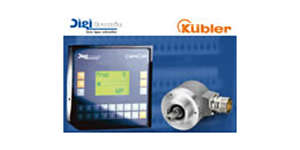 DIGITRONIC Automationsanlagen GmbH, whose main business is the development and production of cam controls with the corresponding accessories, and Fritz Kübler Zähl- und Sensortechnik GmbH, manufacturer of encoders and counters, have formed a strategic partnership.
Digitronic, a company in the field of industry automation processes, manufactures electronic controls for packaging machines, presses and printing machines. Furthermore, Digitronic is successfully working in the area of industry automation processes via Ethernet. Digitronic develops Web-based visualization systems with the corresponding universal web servers.
Kübler is one of the manufacturers with the biggest offer of encoder solutions on the market. The core competence of the company includes miniature encoders, big ATEX encoders as well as incremental, absolute singleturn and multiturn encoders and fieldbus and Ethernet encoders. Kübler's specialty is the realization of complete installation and connection solutions for encoders as well as customized solutions adapted to special needs. Recently, Kübler has launched a new technology platform for incremental and absolute encoders under the brand name "Sendix" to the market. The essential feature of the new generation is a robust, compact, quick, secure and varied design.
The wish to offer optimum solutions to the users has motivated these two medium-sized companies to form more than just a supplier-customer relationship. A close cooperation takes place both in the development and the realization of projects. Thus, the user receives perfectly harmonized solutions and competent advice by specialists from both areas.