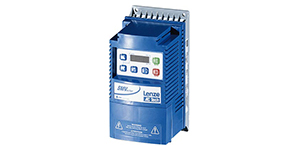 Lenze AC Tech announces the release of higher power, enhanced SMVector NEMA1 drives.
According to company officials, with its price, flexibility and power range now extended to reach 30 Hp, the SMVector drive excels in traditional VFD applications as well as in environments where inverter technology was once considered too costly. Lenze AC Tech describes the drive's increased capabilities as including an additional programmable digital input, terminals for RS-485 communications and an enhanced keypad.
"In the past, we needed an external module for RS-485 communications," says Steve Dextraze, VFD Product Manager at Lenze AC Tech, "now the 15 - 30 HP SMVector now has the capability to wire RS485 right into the drive." Dextraze continues, "To give users immediate access to drive operation if external control is removed, we have added a simple CTRL button for real time control of Local/Remote and Manual/Auto functions."
Deb Kling, Lenze AC Tech Marketing Manager, states that the SMVector carries all the features required by demanding applications, including four modes of operation - V/Hz, Enhanced V/Hz, Vector Speed, and Torque - plus high starting torque, auto-tuning, advanced low-speed control and dynamic speed regulation.
Kling describes the SMVector as designed to be truly a global product, with an input voltage ranging from 120VAC 1-phase to 600 VAC, 3-phase, and she concludes, "Last but not least, the SMVector includes the Lenze AC Tech Electronic Programming Module or EPM, a removable chip that is the drive's memory and allows a customer to program multiple drives in just seconds."