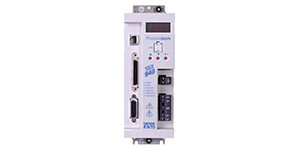 The Lenze AC Tech PositionServo series of drives have it all. From basic torque and velocity control to fully programmable coordinated motion, you choose your level of control.
As a Distributed Drive/Control Solution, avoid all of the costly cables and connections and put the power of the motion controller in the same package as the drive.
Each drive ships with commissioning software on CD and allows for a clean Window's based environment for drive setup and programming.
With 17 programmable I/O points, machine control becomes easy with one packaged solution.
Communication and networking are handled over Ethernet as a standard, but the drive can also provide options for RS-485 and CanOpen.
The Lenze PositionServo can perform along with the most high-level control and drive solutions in the market and can work with both standard synchronous servo motors and asynchronous induction motors. By combining a highly efficient drive with a flexible, easy-to-use control, the ACTech PositionServo is packed with features and performance all for a great price!
The PositionServo has two expansion bays. The top expansion bay is used for communication option modules. There are four communication modules available. The CANOpen option module allows users to tie the drive into a CANOpen network allowing for DS301 functionality using either PDO or SDO messaging. The RS-485 option module can support drive to drive communication (as can the embedded Ethernet port) using the PositionServo's proprietary PPP protocol, or it can support Modbus RTU as a Modbus slave device.