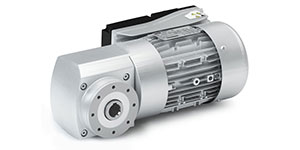 UXBRIDGE, MA, April 18, 2017 – Lenze Americas, a global leader and manufacturer of electrical and mechanical drives, motion control and automation technologies, has introduced the Lenze Smart Gear g350 - a Compact Mechatronic Drive unit combining a gearbox, motor, electronics and software.
"Tailored specifically to horizontal material flow tasks, the g350 mechatronic drive unit is technically the best solution on the market today for material handling operations," said Joel Thomas, intralogistics industry manager, Lenze Americas. "It is available with torques of 25, 50 and 75 Nm in basic or advanced levels (including brake). These six versions cover an expansive solution spectrum and the solution is more energy efficient than drives customarily deployed in horizontal material handling."
The g350 unit blends the motor and gearbox elements, so the gear ratio slips far into the motor housing. The integrated electronics and software make it possible for a fixed motor speed to be easily adapted via a user-friendly app for any NFC-enabled smartphone. At the same torque, speeds ranging from 42 to 216 rpm can be freely selected at the g350 gearbox output, resulting in a drastically reduced number of variations. This reduction then affords cost savings because fewer in-stock components and less engineering efforts are needed.
Additionally, the g350 features integrated ramp functions and brake control options to ensure that conveyed goods are transported smoothly and safely without jerking motions that can damage materials and increase wear and tear on machine components. Optional Lenze accessories allow the g350 unit to be fitted with custom features, such as additional torque support and a solid shaft, depending on the machine requirements.
"Lenze drive solutions guarantee a smooth connection in any upstream or downstream horizontal material handling system - with improved energy efficiency and higher productivity," adds Thomas.