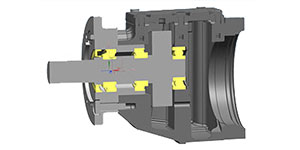 UXBRIDGE, MA - August 17, 2016 - A global leader and manufacturer of electrical and mechanical drives, motion control and automation technologies, Lenze Americas recently added an optional output flange to its line-up of leading-edge Lenze g500-H Series Helical-Inline Gearboxes. The new reinforced VCP (viscous combined plate) output flange provides superior radial load capacity.
"The Lenze g500-H series output flange effectively isolates forces from our CAD-optimized aluminum housing. The result is an even more robust and accurate solution, with a radial load capacity higher than previous generation, iron-based housing designs with reinforced bearings," states Alby King, project manager, electromechanical, Lenze.
The new hybrid design includes an output shaft supported by traditional reinforced tapered bearings and the inclusion of a final drive-gear support bearing. The innovative output flange was designed for applications demanding higher output shaft radial loads. Ideal for many industrial applications, the entire Lenze g500-H helical gearbox series features CAD-optimized design, closely stepped speed reduction ratios and a low backlash.
The Lenze g500-H series is closely scaled in terms of size and torque, with standardized shaft and flange dimensions for easy machine integration. A lightweight and compact package, g500-H series gearboxes are available in two-stage and three-stage designs with a maximum torque of 450 Nm and ratios up to i=370 depending on the application requirements. The g500-H can achieve efficiencies of 94-96 percent or more across the entire operating range.
"Lenze brings real-world expertise and proven motor drive technologies to customers," adds King. "The g500-H with the new output flange option combines seamlessly with our Smart Motors, MD three-phase AC motors below 1 hp, IE3 m550P three-phase AC motors, inverter-optimized MF motors, and MCA and MCS servomotors to form a powerful drive unit in demanding machine tasks."