Lenze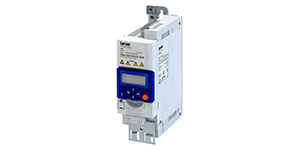 i500 is the new inverter series in the 0.33 to 60 Hp (0.25 to 45 kW) power range. Its distinguishing features: a streamlined design, scalable functionality, and exceptional user-friendliness. The Lenze AC Tech i500 provides a high-quality inverter that already conforms to future standards in accordance with the EN 50598-2 efficiency classes (IE).
Overall, this provides a reliable and future-proof drive for a wide range of machine applications.
Thanks to Lenze's engineering philosophy, the high functionality is still easy to grasp.
Parameterization and set-up are impressive thanks to clear structure and simple dialogues, leading to the desired outcome quickly and reliably.
Keypad - If it's only a matter of setting a few key parameters such as acceleration and deceleration time, this can be done quickly on the keypad.
Smart Keypad-App - The intuitive Android app enables adjustment to a simple application such as a conveyor belt.
EASY Starter - If functions such as the motor potentiometer or sequence control for a positioning application need to be set, it's best to use the EASY Starter engineering tool.
As a part of a machine with a speed-variable drive system, the inverter must be adapted to its drive task. The adaptation process of the inverter is carried out by changing parameters. By default, the V/f characteristic control with a linear characteristic is preset as motor control for asynchronous motors. The V/f characteristic control is a motor control for conventional frequency inverter applications. It is based on a simple and robust control mode for the operation of asynchronous motors with a linear or square-law load torque characteristic (e.g. fan).