Lenze AC Tech Drives Product Guide

The Sub-Micro (SC & TC) Series

SC & TC Series drives are among the smallest and most functional sub-micro drives in the world. Designed for the global marketplace in IP20 enclosures, they are intended for panel mounting within a suitable enclosure. A "through-hole" mounting option allows for extending the anodized heatsink to the exterior of the enclosure.
The
SCF Series
offers a wide power range and input voltage capability. It's 18 control terminals provide many advanced functions including RS485 serial communications over Modbus RTU.
For lower power applications, the
SCL Series
(up to 3 Hp/2.2 kW) and
SCM Series
(up to 5 Hp/4 kW) offer 11 control terminals, including a programmable Form A relay for status indication. The SCL includes a built-in filter to meet the strict European CE standards.
The SCD Series is a full-featured drive that is also DeviceNet compatible. One of the many benefits of this drive is that it retains its LED display when using the DeviceNet interface.
The TCF Series includes Sensorless Vector control algorythms to that produces 100% Torque down to 1Hz output frequency to the motor. With all of the control flexibility of the SCF, the TCF provides improved speed regulation and over-torque capability.
The Micro (MC) Series
AC Tech MC Series Micro-Drives
are compact, low cost drives available in steel enclosures rated from NEMA 1 to stainless NEMA 4X (IP21 to IP65). Featuring "plain English" displays and programming, the MC Series is the drive that speaks your language.
MC1000 and MC3000 Series drives are rated for constant torque applications.
The MC1000 can be used for bi-directional applications, while the MC3000 is ready for applications that require set-point control using the built-in PID feature.
The MCH is a variable torque drive for HVAC applications and is available with options such as bypass, line reactor, and input disconnect or circuit breaker. The MCH also includes PID Setpoint Control as a standard feature.

The High HorsePower (QC) Series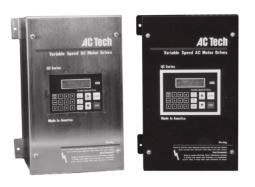 QC Series drives are the workhorse for industrial and commercial applications. The QC Series incorporate a large 2-line backlit LCD display and are available for all standard power sources from 200V through 590V.
QC1000 and QC2000 Series drives are designed for general purpose constant torque applications, while the QC3000 is for variable torque loads such as HVAC and pumping applications. The QC Series is available with options such as bypass, line reactor, and disconnect.
STANDARD FEATURES ON ALL AC TECH DRIVES

Agency Approvals: UL, cUL, CSA

Electrical/Environmental Specs:
• Input Voltage Tolerance: +10/-15%
• Input Frequency Tolerance: 48 to 62 Hz
• Storage Temperature: -20 to 70 C
• Humidity (non-condensing): 95%
• Altitude (without derating): 1000m (3300 feet)
• Efficiency: 97% or better
• Power Factor (displacement): 0.96

Interface Features:
• Front Mounted Keypad/Display
• Customer Terminal Strip
• TechLink Compatible

Parameters/Functions:
• Independent Accel/Decel
• Coast or Ramp to Stop
• Automatic Restart
• V/Hz Adjustment
• DC Braking with Adjustable Voltage and Time
• Critical Frequency Lockout
• Current (Torque) Limit
• Carrier Frequency Adjustment
• Voltage Boost
• Jog
• Preset Speeds
• Min and Max Frequency limits

Protection Features:
• Input Phase Insensitive
• Over and Under voltage
• Line Surge/Transient
• Output Short Circuit
• Output Ground Fault
• Overtemperature
• Motor Overload
• External Fault input
• Password for Parameters
• Fault History/Diagnostics