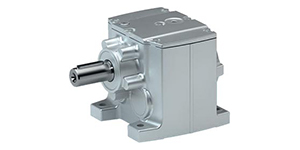 Leading global manufacturer of electrical and mechanical drives, motion control and automation technology, Lenze Americas has introduced its New g500 Gearbox Range, developed to transform motor speed into torque as intelligently and accurately as possible. Designed for mechatronic integration with the Lenze Smart Motor, the finely tiered series of g500 gearboxes enable efficiency of over 94 percent across the entire transmission range.
The new g500 gearboxes minimize losses, so the motor can generate less energy, which improves the bottom-line efficiency of the entire system.
The lower level of generated heat increases the overall service life. The g500 gearboxes are designed for total integration with the Lenze Smart Motor.
A single, efficient motor for many applications, the Smart Motor offers numerous integrated functions for material handling applications, including higher starting torque and freely adjustable speeds between 500 and 2,600 RPM, which reduces the required number of drive versions by up to 70 percent.
The compact Smart Motor meets the highest requirements in energy efficiency and can be conveniently operated using an NFC-capable smart phone.
The helical, helical-bevel and shaft-mounted helical g500 gearboxes are now available in sizes of 45 to 600 Nm constructed in aluminum housings. In 2014, Lenze plans to release g500 gearboxes with up to 13,000 Nm ratings produced in cast iron.
The g500 gearboxes can be combined with the Lenze Smart Motor, in addition to IE2 MH three-phase AC motors, the inverter-optimized MF motors, and the MCA and MCS servo motors.