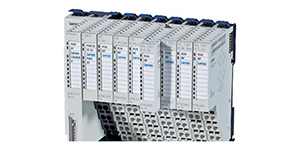 Lenze's newly developed I/O System 1000 combines extensive functionality with a modular mechanical concept and compact design. Part of the L-force controls portfolio it offers a highly deterministic activation/deactivation of input and output modules, including the reading-in of touch probe inputs such as needed for synchronised movements in cyclical production processes. Presented at the Hannover Messe Industrie 2009, the new I/O system of the Hamelin specialist for drive and automation technology convinces by its user-friendliness and outstanding performance.
Combining a minimum internal cycle time with a time stamp, it meets even highest speed requirements. Consequently, it is suitable for real-time-based architectures as well. In addition to bus couplers such as CANopen and PROFIBUS, Lenze offers connections for established Industrial Ethernet bus systems such as EtherCat.
The standard I/O-modules allow for the connection of up to eight 2.5 mm2 cables and have a slim design. Besides a width of only 12.5 mm, the labelling and diagnostics display with its bright LEDs can be easily read in a poorly lit control cabinet. Each channel-LED is uniquely assigned to a labelling field. Overall, Lenze successfully combines a slim design with outstanding diagnosis, readability and labelling possibilities.
To create complete integral stations, the modules can be combined just as easily as they are wired or labelled. Up to 64 modules can be put together by simply plugging them into the integrated backplane bus. Users also benefit from the stepped shape of the connecting shape with its tension spring technology and secure wiring.
As to the operational qualities of the I/O system, user-friendliness is key as well. The terminal block with backplane bus connections has a modular structure as do the electronics, which feature protection against polarity reversal. As a result, a defective electronic module can be replaced quickly and easily during maintenance due to the plug-in electronics - without the wiring having to be disconnected. This reduces the risk of incorrect wiring and, in case of service and maintenance, saves time.