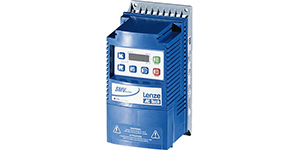 New Lenze Drives Offer Easy Application
Lenze has removed the cost and complexity from vector based motor control with the launch of the new
SMVector IP31 Range of Inverter Drives
. The SMVector offers fast dynamic torque response, sophisticated auto-tuning and impressive low speed operation from a compact, low cost and easy to use package. The SMVector range is designed for use in small motor applications where dynamic speed and torque control are required, such as conveyors, food production, packaging lines and HVAC systems.

Development of the SMVector product has been driven by customer demand and feedback from the international sales force. The popularity of small easy-to-use drives in general purpose applications to increase accuracy and reduce energy usage has stimulated demand for a new, compact AC drive offering vector control while still allowing significant cost reductions in both retro-fit and OEM applications.
Lenze expects the SMVector range to expand the market for small drives by providing sensorless vector control that is extremely easy to commission and operate. An easy to use
facia keypad
and a choice of onboard parameter sets ensure that the basic control and set-up procedure can be completed in seconds.

In common with other AC drive and PositionServo products in the lenze compact drive family; the SMVector also features a programmable EPM chip. Essentially a memory chip mounted in its own rugged plastic enclosure, the EPM plugs directly into the drive facia. The removable chip allows OEM manufacturers to copy across an entire operating set in a matter of seconds and commission the drive without having to turn it on.

In a product support and maintenance situation, a replacement EPM chip can often be used to return a machine to service without calling out a support engineer, or having to commit skilled programming time to re-commission an individual drive. The drives themselves are also tough, recovering from a 100% shock load in just 0.15 seconds.
SMVector drives are available in the power range 0.25kW to 22kW for single-phase and up 3 phase supplies. Standard operating modes include standard and enhanced V/Hz (constant and variable) operation, vector speed control and vector torque control. Motor calibration is via an auto-tune function and a range of communication options are available in order to integrate the SMVector into a wider machine or plant control network,
DeviceNet
, RS-485, LECOM,
CANopen
,
Ethernet/IP
and
Profibus
are all available from launch with others being introduced soon.