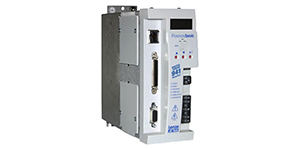 Lenze Americas is excited to announce the launch of the PositionServo with its new revision 2 hardware platform.
The AC Tech Lenze PositionServo's new hardware platform is a drop-in replacement for 99% of the installed base while adding auto-tuning capability, programmable brake release delay functionality, plus ease of use upgrades to the MotionView OnBoard (MVOB) Software Program.
"The auto-tuning capability makes tuning a servo drive effortless" explains, Joel Kahn, PositionServo Product Manager "it allows the user to quickly setup his application and if he needs more precise gain control, manual tuning in velocity and position modes is still available." No longer fixed at 10ms, the brake release time is now programmable to 2000ms in ms increments for precise application control.
"MotionView OnBoard (MVOB) Software is embedded into the drive to allow customers the simplicity of not having to worry about keeping track of their software," explains Sandor Becz, Director of Engineering. "Now the user experience is greatly enhanced with the software upgrades including a new Monitor display, Rotational Direction parameter, Clear and Stop/Reset buttons, plus advanced feedback filter options. And now, upgrading the drive's firmware is as simple as pressing the [Upgrade] button."
The easy preconfigured Monitor screen allows the user to keep track of the active parameters and monitor I/O values in a single glance. The new Rotational Direction parameter allows users to quickly change the positive direction CW/CCW to fit their specific installation without having to recode all MOVED, MOVEP statements with negative values. A great time-saving tool in debugging and commissioning applications, the [Stop/Reset] button is available on every main software page making stopping the indexer execution and resetting the drive convenient and fast.