PositionServo Seals The Deal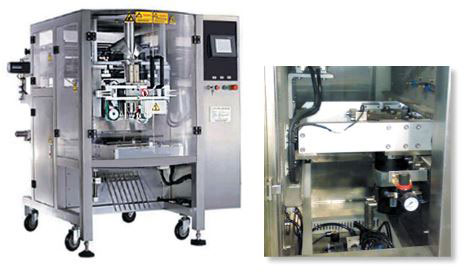 Two PositionServo drives with
Lenze Synchronous Motors
are used to provide top-notch accuracy on the latest Form Fill Seal Machine.

Product Benefits

• Precise Positioning Capability
• Modbus RTU Communication
• Cost-Effective Servo Drive and Motor System Intuitive Setup and Programming
• MotionView OnBoard Integrated Software

Packaging

A Form Fill Seal (FFS) machine manufacturer utilized the pairing of a Lenze Americas PositionServo drive and a Lenze synchro- nous motor in his latest packaging machine with great success.

FFS machines are used for the automatic packaging of food items like peanuts, popcorn, sugar and cereal. The type of packaging varies by product and includes: pillow, gusset and vacuum bags as well as bags with a tear strip. The width and length of the packaging also vary making it vital that the FFS machine operate with consis- tent accuracy to provide efficient packaging with minimal loss.

This FFS manufacturer uses two Position- Servo drives, each connected to a Lenze motor. One drive controls the positioning of the packaging film, the other controls the positioning of the sealing arms.

The PositionServo's 64-bit motion control and internal programmed logic delivers highly accurate positioning every time. This precise accuracy is vital because even the slightest inaccuracy could lead to an improperly sealed bag and the loss of product.

The PositionServo drive and motor combination provided a cost effective solution for this manufacturer's dynamic positioning requirements. In addition, this powerful duo provides flexible, high speed and clean-cut performance yielding a well sealed package.
Utilizing a Lenze motor reduces the cost of the system package and ensures the drive-motor compatibility. Plus adding the
Modbus module
makes communication and control of the PositionServo drive simple.