SCF Drives Home Perfect Pitches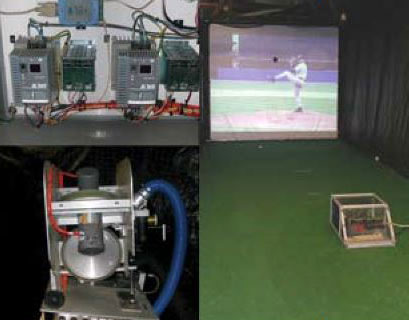 Based in Milford, Connecticut, ProBatter Sports engineers and markets state-of-the-art baseball training systems including the ProBatter Professional baseball simulator, the standard in high tech pitching machines. The system combines a computer-controlled baseball-pitching machine with cutting edge video technology, allowing a batter to practice under game-like conditions.

Real baseballs are "thrown" by full size right-handed and/or left–handed pitchers who appear on a screen in front of you. Fastballs, curves, sliders, sinkers, cutters, change-ups, and slurves, are all thrown on an interchangeable basis, to multiple locations, at speeds up to 100 miles an hour with pinpoint accuracy. Plus there is full synchronization between the pitcher images and the computer-controlled pitching machine.

According to Michael Suba, VP of Engineering at ProBatter Sports, LLC, one of the crucial differences between the ProBatter simulator and conventional pitching machines is the fact that the ProBatter system uses a three-wheel machine, instead of the typical two-wheel.

"At first glance, the system's video component seems most impressive but it's not what makes the ProBatter simulator such an outstanding training tool," explains Suba. "The biggest difference is the fact that our three- wheel machine can pretty much throw any pitch that a human being can throw."

Finding the right motor inverter was crucial in order to achieve control of the wheels, speeding up or slowing down each axis in different combinations to simulate fastballs, sliders, curves or knuckle balls. That precise accel/decel capability is the secret behind a well simulated pitch and the reason why ProBatter Sports engineers chose the SCF Series Inverter drive.
AC Tech SCF Inverter Drive
, complete with its
dynamic braking
, is able to decelerate the machine wheels faster and with more repeatability. Add to these benefits the drive's physical size, its cost-effectiveness and availability, and the fact that Lenze AC Tech offers worldwide support, makes the SCF drive a perfect fit.

SCF Benefits

• Precision Accel/Decel Capability
• Dynamic Braking
• Reliable, Repeatable, Rugged Performance
• Seamless Integration Into System
• Micro-Size
• Outstanding Value
• Product Availability
• Global Support