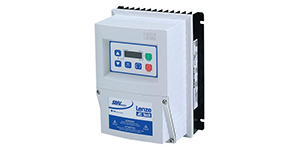 Lenze AC Technology Corporation announces the release of the Potentiometer Option for SMVector NEMA 4X inverter models. According to company sources, the Potentiometer option is built right into the terminal cover, providing direct front panel access.
Steve Dextraze, Inverter Product Manager at Lenze AC Tech, calls it robust and easy to maneuver and states that the potentiometer knob takes the place of the up/down buttons on the drive keypad, giving the operator manual speed control over a 0-10V analog output.
"The potentiometer option is great for use in hands-on applications where speed must be ramped up/down, such as conveyer applications or food/beverage process applications." says Dextraze, adding, "In single use installations the potentiometer provides just the right amount of control without the user having to use the keypad."
Dextraze explains that the SMVector inverter drive provides all the features required by demanding applications, including four modes of operation - V/Hz, Enhanced V/Hz, Vector Speed, and Torque - plus high starting torque, auto-tuning, advanced low-speed control and dynamic speed regulation.
Dextraze further comments that the SMVector is designed to be truly a global product, with an input voltage ranging from 120VAC 1-phase to 600 VAC, 3-phase, plus the Electronic Programming Module or EPM, a removable chip that is the drive's memory and allows a customer to program multiple drives in just seconds; the SMVector NEMA 4X also offers an integral disconnect option for quick and easy motor maintenance.
Lenze AC Tech develops, manufactures, markets and supports a complete range of motion control solutions, including servo drives and motors, clutches and brakes, gears and gear motors and variable frequency AC motor drives. Lenze AC Tech's portfolio of AC Drive products extends from some of the world's smallest sub-micro drives up through large, 500 HP. With North American headquarters in Uxbridge, Massachusetts and a global network of distributors and representatives, Lenze AC Tech is perfectly positioned to meet the motion management needs of customers throughout the world.