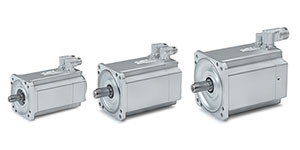 UXBRIDGE, MA, OCTOBER 5, 2017 - Lenze, a global leader and manufacturer of electrical and mechanical drives, motion control and automation technologies, is pleased to announce the release of the new Lenze m850 Synchronous Servo Motors with moderately dynamic responsiveness in the upper power range. The Lenze m850 series offers Lenze servo motors that are compact, easy to control, and run efficiently. They are especially suitable for positioning tasks in packaging and material handling systems.
"Our tried-and-tested MCS motors meet the requirements of high-end applications where maximum dynamic responsiveness and precision are required," said Alby King, electromechanical product manager, Lenze Americas. "With that in mind, the m850 series is especially suitable for positioning tasks in packaging, robotics, and material handling applications where a high degree of quiet, smooth operation is required."
The housing of the series has smooth and easy-to-clean surfaces making these servo motors suitable for use in the food industry. The motors are equipped with a robust resolver feedback system as a standard feature but can also be supplied with multi-turn sin/cos encoders for high precision. SpeedTec connections with rotary connector boxes enable speedy installation and replacement in the event of service.
In conjunction with the servo inverters i700, 9400 and 8400 TopLine, it provides high-performance drive solutions in the torque range of 5.30 lbs-in to 1770 lbs-in (0.6 to 200 Nm).