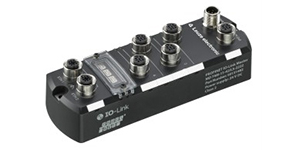 The IO-Link interface was the first step toward Industry 4.0. It is used to exchange the available process, configuration and diagnostic data directly with the control system. To achieve true Industry 4.0 implementation, however, data does not only need to be made available in the control system but at the same time also has to be available at other levels all the way up to the cloud.
For this purpose, Leuze electronic has designed a new IO-Link field master which communicates the process and diagnostic data simultaneously via the interface. From April, it will be possible to communicate via Profinet; from July, communication will also be possible via Ethernet IP. This represents a further important step toward the intelligent factory and provides the customer with the possibility of simple device configuration, validation and diagnosis.
The IO-Link master with its compact design has a housing with safety class IP67 and, thanks to its robustness, is suitable for use in hostile working environments. It has four IO-Link ports and an integrated web server to allow configuration to be performed directly. In combination with the series 10 switching and measuring sensors, the advantages for the user are obvious: With the switching sensor HT 10, the sensor can be configured directly via the control system. With the measuring sensor ODS 10, the IO-Link field master represents a real alternative to the analog interface.