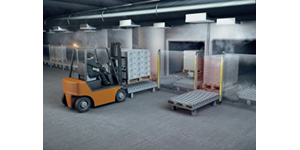 With the new safety light curtain of the MLC 500 series which is particularly suited for use in cold stores with ambient temperatures as low as -30°C, Leuze electronic offers a wider range of solutions for the food industry.
The temperature range is extended from the current minimum of 0°C to a minimum of -30°C. The safety light curtains' design is just as robust and compact as pre-existing models of its series. Particularly the new safety light curtain with Smart Process Gating allows a very compact system design as it completely forgoes the need for signaling sensors thanks to the protective device used in controlled material transport systems.
Configuration and installation are also simple and possible without a PC. The new models are available with resolutions from 14 to 90 mm and protective field lengths from 300 to 3000 mm.