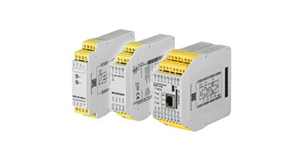 The new MSI 400 safety controls have a compact design and have been specially designed for use on eccentric and hydraulic presses. They fulfill requirements in accordance with the EN 692 standard for mechanical presses and the EN 693 standard for hydraulic presses.
The new models contain tailored and certified function modules for press control and protection, and are particularly suitable for use on small and medium-sized presses. The predefined press function modules, simulation function and log generator make programming and configuration quick and easy. They enable monitoring of the press procedure and easily implement different operating modes (single stroke, automatic, cyclic, setup mode).
Operating units such as two-hand, foot, EMERGENCY STOP and operating mode selector switches and safety sensors can be flexibly integrated.