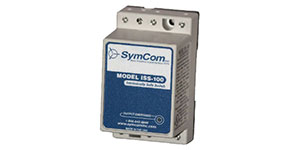 SymCom, Inc. has introduced Model ISS-102 dual-channel, intrinsically safe switches meeting UL 913 6th Edition (Aug 8, 2002). Several ISS-102 models are available each with distinct output relay configurations offering the versatility to control a variety of systems. Whether you need a pump-up or pump-down latching controller; a seal-leak detector; or a simple intrinsically safe, two-channel switch, there's an ISS-102 to manage the job.
Additional ISS-102 options include variable resistance thresholds for probe inputs and invert logic configuration for use with normally open or normally closed input switches. Bi-color LEDs clearly indicate output relay state. The ISS-102 is surface or DIN rail (35mm) mountable. Model ISS-102s are ideal for municipal water, wastewater treatment, chemical plants, manufacturing, mining, agriculture, and forest service fire protection industries, just to name a few. Operations where an explosion or fire would be catastrophic - where intrinsic safety goes beyond following code - and means saving dollars and lives.
For over 30 years, SymCom has built its reputation around reliable industrial electronics. SymCom's customer-focused philosophy means you can find a real person at the other end of the phone line if installation or operation help is needed. Model ISS-102s, along with all of SymCom's microcontroller-based products, are backed by a 5-year warranty and made in the USA.