Littelfuse Introduces Motor Protection Relays with Wireless Monitoring and Control
Communicates with iPhone or Android Devices via Unique Integrated Bluetooth Technology for Easier, Safer Relay Monitoring and Control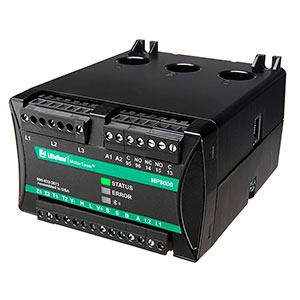 Chicago, January 25, 2017 - Littelfuse, Inc., the global leader in circuit protection, today introduced a next-generation motor protection relay designed to enhance worker safety while allowing for faster, easier control and troubleshooting. The MP8000/MP8100 Series Bluetooth Enabled Motor Protection Relay allows maintenance personnel to communicate with the relay from up to 30 feet away using an app on an iPhone or Android smartphone or tablet computer.

The MP8000/MP8100 is the first fully-programmable motor overload relay to offer integrated Bluetooth capabilities; earlier types required the purchase and installation of separate Bluetooth modules.

"The MP8000/MP8100 relay represents a revolutionary advance for both motor protection and safety. Littelfuse is proud to have been a part of developing this important safety enhancement technology," says Charles Newcomb, product manager, Industrial Business Unit, Littelfuse.

Greater worker safety

A worker can set up the relay, view real-time data and troubleshoot fault codes while the panel door remains closed to minimize potential shock and arc-flash hazards and help create a greater level of safety.

Higher productivity

Bluetooth communication provides a number of conveniences that improve productivity. Workers save time by leaving their PPE (personal protective equipment) in their locker. Motors are easier to troubleshoot when workers can stand nearby the motor, instead of next to the relay located at a distance up to 30 feet away. If the relay is located in an outdoor cabinet, workers can interact with it while remaining warm and dry in their vehicles during inclement weather.

Intuitive interface

Once a smartphone is securely paired with the relay, a worker can easily monitor system status in real time, set up the relay, adjust its settings, and review its fault history. Instead of turning knobs and scrolling through menus on a small display, workers can use a smartphone interface to interact with the relay. The app is intuitive and requires no training to use. The Littelfuse MP8000 App will be available on the Apple App Store and Google Play starting this February.

Typical motor protection applications

Applications for the MP8000/MP8100 relay include conveyor systems, HVAC equipment, saws and grinders, fan motors, and pumps employed in manufacturing, oil & gas, water/wastewater, and mines.

Enhanced motor protection

The MP8000/MP8100 relay combines the tools necessary to monitor motor overload, voltage, phase loss and reversal, voltage and current unbalance, power monitoring, and underload in one package.

The MP8000/MP8100 relay protects any motor drawing 0.5–100 full-load amps (currents higher than 100 amps require external current transformers). It is designed for single- or three-phase systems with operating voltages of 90–690 VAC. Although the Bluetooth interface can be used when paired with a smartphone or tablet, the MP8000/MP8100 also features an Ethernet port that can connect to a PC or SCADA system, and supports data logging through a PC with optional LFS-MP8000 software. The MP8000 and MP8100 both offer remote wired communication via Ethernet Modbus TCP/IP; the MP8100 also enables communication via RS-485 and CAN bus interfaces.