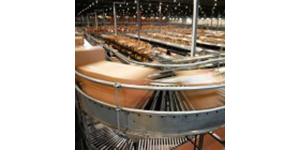 Any one of us experiences the boom in the intralogistics industry. Shorter delivery times require logistics concepts in which highly efficient conveyor technology is an essential component. Kendrion Aerzen has been supplying clutch and brake solutions for driven roller conveyors for the intralogistics industry for many years.
By the request of a well-known and globally active manufacturer of modern conveyor technology, a new concept of a spring-applied brake for driven motor rollers has been developed. The manufacturer looked for a holding brake with an emergency stop function for a driven conveyor roller with an internal motor. In the event of a power failure, the braking power of the rollers must be able to decelerate the maximum permissible load capacities within shortest braking distances to a standstill.
"The particular challenge in the fulfilment of the customer requirements lay in the space limitation," says Dominik Volz, who has supervised the project as a project manager in Aerzen.
The outside diameter available for the brake is less than 50mm. As a result, a new and high-performance spring-applied brake developed, which meets the high requirements in use. After the successful development between the customer and Kendrion Aerzen a supply contract was concluded over several years.
The new brake fits perfectly into the overall strategic approach of the brake manufacturer because Kendrion Industrial Drive Systems will grow in the future in the field of spring-applied brakes. The customer-specific solution has resulted in a product, which does not need to be compared with the competition. A spring-applied brake, which generates from the given space such high nominal torque, will not be easy to find.