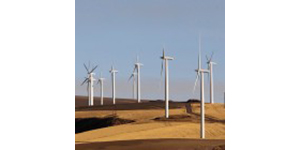 In order to achieve an increase of the output capacity of the individual wind turbines as well as a mostly uniform energy yield throughout the day wind turbine manufacturers opt for individual power output control of wind turbines through active pitch control of the rotor blades.
With this solution, the power output of wind turbines can be collectively controlled according to actual electricity requirements and based on the actual wind resources available at a given time. Active pitch control is implemented by means of electric drives that are coupled with electromagnetic brakes.
Kendrion Industrial Drive Systems boasts many years of in-depth experience as an industrial solution provider of brakes for electric motors used in a variety of applications, among which rotor pitch control systems in wind turbines. For this specific application, Kendrion has developed a Cold Climate Version (CCV) of its permanent magnet brake to provide a special solution designed to ideally meet the wind power requirements of onshore and offshore wind farms.