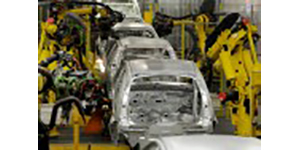 While – at least on the European market – permanent magnetic brakes suitable for a great variety of applications were usually chosen when it came to servo drives modern spring-applied brakes have now become a promising alternative. At this year's trade fair SPS/IPC/Drives visitors can convince themselves of the advantages of the new Servo Line series at the stand of Kendrion, the expert for electromagnetic brakes.
The spring-applied single-disc brakes come in 11 sizes with holding torques from 0.3 to 130 Nm. To increase performance the rated air gap tolerance is limited to few hundredths of a millimeter by means of a patented manufacturing process. Depending on the temperature and torque the lifetime of the brakes can be ideally designed to meet the respective requirements. In principle, an operating temperature range from -15 °C to +120 °C can thus be covered.
With the standard model the brakes can be mounted both on the flange and on the front side. It is also possible to mount inside the motor housing or at the bearing plate. Intermeshed joints between driver and friction disc minimize the circumferential backlash. This makes the new brakes suitable for almost all areas where servo drives operate, from automation and robotics through packaging and conveying technology to assembly lines, storage systems or wind power stations.