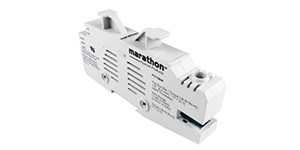 Marathon Special Products, a division of Regal Beloit Corporation, is proud to announce an addition to our line of fuse holders. This photovoltaic fuse holder is uniquely designed with terminals to accept standard bus bar as opposed to fabricated custom bars. The ability to use standard bus bar enables system integrators to significantly reduce the amount of copper bar purchased, bus bar fabrication, engineering and assembly time.
The PV15BW will have UL4248-18 conformance up to 1500 volts and 30 amps, with terminals evaluated for use with 90°C wire. This design allows it to run cooler than traditional designs. In addition to the fuse holder's natural bus bar enclosing design, side covers are available for additional protection.
For more information, please call 419-373-4213 or email marketing@marathonsp.com.