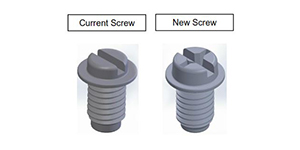 Marathon Special Products is enhancing the drive feature of the screw for our 6G38 products. The new screw adds a Phillips drive feature to the slotted drive feature, which will enable a slotted, Phillips #2, or terminal block screwdriver to be used while tightening. The current screw is a washer head screw with only a slotted drive feature.
This will be a running change and will take place on or around Jan 30, 2017, therefore, all products built from approximately Feb. 1, 2017 forward will include the re-designed screw. If your inventory should contain both the new and old screw, the same screwdriver for the old will also work on the new, since they are both capable of accepting a slotted drive.
This will be a seamless transition. No part numbers will be changing.
Part numbers included in this change are:
6G38 TS C
6G38 TSKK C
6G38 TS F
6G38 TSKK F
6G38 TS DIN
6G38 TSKK DIN
Current Screw
New Screw