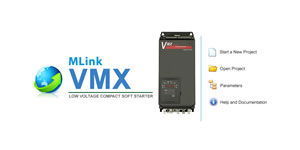 Motortronics has launched a major MLINK software update for their MVC, DXT, VMX, RX and TE-RTD12 product series.
What's New in version 2.5.0.0:
-Upgraded user interface with improved navigation
-Improved Communication
-Updated report generator
-Updated e-mail engine
-Updated help file
-Optimized for Windows 10
-Updated auto-update function
-Functionallity added to open trend file with file open in main menu
-Phase Currents and Voltages added to Event log
-Minor improvements and fixes
System Requirements:
-Computer with Intel® Core i3 or equivalent processor.
-Microsoft® Windows® 7 or higher with latest service pack.
-2GB or more recommended.
-Minimum screen resolution of 1024 x 768 (1280 x 800 recommended).
-100 MB of available disk space.
-Mouse or other pointing device.
-Inkjet or laser printer for printing of reports.
-E-mail with Messaging Application Programming Interface (MAPI) to e-mail reports.
-Internet Connection to download software updates.
-Ethernet or serial port.