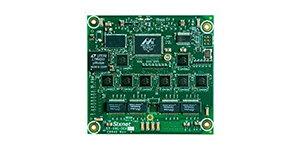 Red Lion Controls, the global experts in communication, monitoring and control for industrial automation and networking, announced the addition of the ET-8MG-OEM board-level, all-Gigabit switch to its industrial Ethernet family. Red Lion's fully managed Sixnet series ET-8MG-OEM switches provide a commercial off-the-shelf (COTS) solution for OEM customers, allowing them to quickly and cost-effectively add industrial-grade networking capabilities to their products.
Delivered in a compact PC 104 footprint, the ET-8MG-OEM switches provide rugged, industrial-grade networking designed to withstand the harshest environments. Its flexible board-level design allows integration into embedded applications with support for a combination of up to eight 10/100/1000Base copper and 100/1000Base SFP or SFF fiber ports.
Manufacturers creating solutions for customers in the military, utility, alternative energy, transportation or security surveillance industries will find value in the ET-8MG-OEM switch's ability to keep industrial networks up and running – even in the toughest of conditions. With support for a wide range of operating temperatures and a robust managed feature set, Red Lion's ET-8MG-OEM switches offer manufacturers a fully functional, turnkey industrial Gigabit Ethernet solution.
"Gigabit Ethernet is becoming the standard for connecting IP-based components of automated devices in industrial, utility and military applications. In order to maximize these investments, OEM partners must provide reliable, purpose-built Ethernet switches with sophisticated features," said Diane Davis, director of product management for Ethernet networking at Red Lion Controls. "Our new, all-Gigabit switches are designed to help our OEM partners meet the diverse, rugged networking requirements of customers across a variety of industries."
Features of Red Lion's ET-8MG-OEM managed switches include:
-Flexible configuration for up to eight copper or fiber SFP/SFF ports
-Rugged reliability in extreme -40° up to 75°C temperatures
-5.0 VDC power input
-10/100/1000BaseT(X), duplex and MDIX auto-sensing
-100/1000Base SFP or SFF fiber
-Easy configuration via Web, Telnet or CLI
-Web interface supports HTTPS security with SSL or TLS
-Broadcast and multicast storm protection