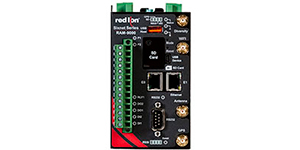 Red Lion Controls, the global experts in communication, monitoring and control for industrial automation and networking, today announced the addition of new RAM® 9000 models to its Sixnet® series of industrial cellular RTUs in North America. These cellular RTUs now offer Wi-Fi models for local wireless communication as well as new carrier options, which allow customers to connect, monitor and control assets and processes regardless of location.
"Red Lion recognizes the need for reliable wireless connectivity that incorporates both cellular and Wi-Fi. This is especially helpful in industries like unconventional oil and gas and utilities where sites can be difficult to access," comments ARC Advisory Group analyst Harry Forbes. "These industries need remote data 24/7, but they also want to conduct local inspections of connected equipment without disturbing their assets by hooking up wired test equipment."
Red Lion's RAM 9000 Wi-Fi provides IEEE 802.11b/g/n (2.4 GHz) access point functionality, which supports Wi-Fi enabled laptops and I/O devices and delivers robust security via WEP, WPA and WPA2 encryption. RAM 9000 industrial cellular RTUs combine built-in I/O and active GPS with RS232 and RS485 serial and Ethernet ports to securely monitor remote devices via 3G/4G LTE cellular networks. With more I/O than many competitive offerings, this cellular automation platform enables customers to save time, space and cost by combining separate technologies into a single device.
"Integration of Wi-Fi into our RAM 9000 cellular RTUs allows personnel to commission, monitor and troubleshoot their systems without the need to physically connect a cable or open a cabinet," said Paul Bunnell, product manager, process automation for Red Lion Controls. "The addition of new Verizon and AT&T models gives users the power to choose their preferred network provider. This extended network coverage enables remote monitoring across industrial applications that include oil and gas, water/wastewater, utilities and transportation."
The new Sixnet series of industrial cellular RTUs include:
-RAM 9601 – Verizon 3G with 1 Ethernet port
-RAM 9611 – Verizon 3G with 2 Ethernet ports
-RAM 9631 – Verizon 3G with 2 Ethernet ports and Wi-Fi option
-RAM 9731 – AT&T 4G LTE with 2 Ethernet ports and Wi-Fi option