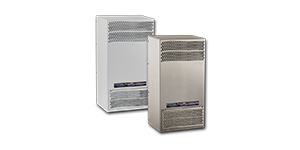 SCE has added a new air conditioner to our line of Enviro-Therm thermal products! This compact 1000 BTU unit, measuring only 18.90"H x 10.00"W x 7.50"D, provides a cooling option for small enclosures. These air conditioners are available in powder coated carbon steel or stainless steel and 120 V, 60 Hz or 230 V, 50/60 Hz single phase. The unit also includes enclosure heating capacity of 150 W.
Enviro-Therm® air conditioner features:
-Powder coated steel cover RAL 7035 River Texture over Aluzinc coated steel
-Type 4X units have #4 brushed finish 304 Stainless Steel cover and frame
-Internal components are corrosion resistant
-Closed Loop Cooling System
-Hermetically sealed Reciprocating Compressor on units up to 5,100 BTU/hr
-Hermetically sealed Rotary Compressor on units greater than 5,100 BTU/hr
-Specially designed Active Condensate System using PTC heater element
-Coils are designed as filterless units, fin spacing and Hydrophobic Nano Coating to help reduce chance of clogging
-Washable, Reusable 8 layer aluminum mesh filters included
-Captive screw fastened filter cover
-Integrated compressor heater for low ambient temperatures and up to 2000 watts of enclosure heat
-R134a Refrigerant – Chlorine-free and harmless to the environment
-Easy Mounting Flange hangers for installation included
-Digital Touchpad Programmable Controller, viewable and accessible from inside enclosure
-Controller preset 95°F to cool – adjustable 68°F to 122°F
-Preset at 41°F to heat – adjustable -4°F to 122°F
-Temperature differential hysteresis 5.4°F
-High temp alarm preset 131°F
-High performance ball bearing fans
-Door activated switch wiring provisions provided for easy installation
-Cage clamp terminal connector
Contact your SCE sales representative for a quote today!