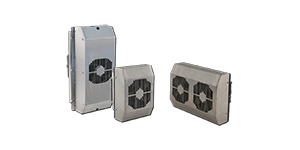 Saginaw Control & Engineering is now offering Thermoelectric Coolers, enhancing our Enviro-Therm Thermal Management Product offerings. Thermoelectric Coolers efficiently cool enclosures using Peltier technology. The compact design is great for small enclosures and can be mounted vertically or horizontally.
Thermoelectric coolers have very few moving parts and no piping, allowing less room for failure. The units are available with stainless steel housing; and the rugged, energy efficient, and reliable cooling system minimizes downtime.
Features of the thermoelectric cooler include:
-DC Powered for 24V applications
-Mount vertically or horizontally
-Filterless design reduces maintenance requirements
-Contains no compressor or refrigerant, making them eco-friendly
-Prewired with simple terminal block for easy wiring connections
-Operates on the Peltier effect for cooling
-Operating temperature range from -4°F to 149°F
Check out the Thermoelectric Coolers on our website or contact your sales rep for more information and a quote.