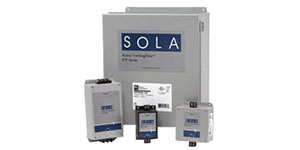 ROSEMONT, IL, December 21, 2009 - SolaHD, one of the world's leaders in power quality technology, has developed a series of Filter Selector Guides to help design engineers identify the ideal SolaHD Active Tracking Filter protection for power supplies from SolaHD and other manufacturers' power supplies.
SolaHD Power Filters with Active Tracking are designed to safeguard industrial, medical and telecommunications equipment against damaging low-energy voltage transients and high-frequency noise. Low energy transients and noise missed by surge suppression technology can disrupt production schedules and degrade equipment with electronic rust. Active Tracking filters convert this dirty AC power into a clean, reliable source of energy.
Individual guides were created for SolaHD, Allen-Bradley®, GE Fanuc® Automation, Omron® and Schneider® power supplies and controllers.