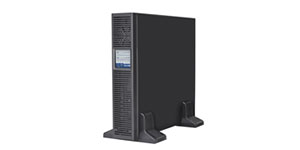 ROSEMONT, IL, February 24, 2010 -- SolaHD, a global supplier of power quality solutions, today unveiled its S4K2UC Uninterruptible Power System (UPS) that incorporates a unique combination of advanced true on-line, double conversion technology contained within a rugged, ultra-compact chassis perfect for industrial computing, automation systems, robotics, and process controls. SolaHD is offering models in 120V or 230V configurations from 700VA to 3000VA of capacity.
The new S4K2UC UPS systems can be mounted directly into any standard 19-inch rack, occupying only 2U (3.5 inches) of rack space, as well as be floor mounted for standalone use. Matching external battery cabinets in 2U height are also offered to achieve additional backup time.
The S4K2UC is designed from the ground up to deliver continuous, high quality power to connected equipment with no break or transferring to a battery. Its rated output power factor of 0.9 is a superior match with switch mode power supplies, which results in more efficient utilization of the UPS.
SolaHD's concentration on smaller form-factor UPS designs and its leadership in advanced power quality technologies have enabled the company to continually meet new customer requirements. The S4K2UC follows this trend by offering flexible output voltage, internal batteries, and an integral dynamic bypass switch. Other features contributing to its outstanding performance include:
• Self-diagnostic capabilities;
• Rotating LED display panel for easy readout in rack or tower position;
• Multiple and simultaneous communication ports;
• Wide input voltage range to minimize battery operation;
• Hot swappable, user replaceable batteries;
• Automatic internal bypass and optional manual maintenance bypass;
• Continuous sine wave output to allow full compatibility with variety of power supplies;
• Power factor corrected input to reduce reflected distortion while optimizing utility power.
AVAILABILITY
The SolaHD S4K2UC UPS will ship May 2010. List pricing will vary depending on options selected. SolaHD backs new UPS systems with a two-year limited warranty.