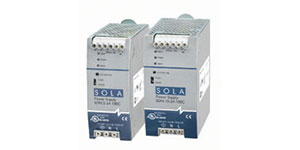 ROSEMONT, IL, May 20, 2009 - SolaHD, a leading supplier of power quality solutions, announced today announced it has expanded its DIN-rail power supply line with the SDN-C 20-24-100C, available in the popular 20 Amp single-phase 24VDC category.
The SDN-C 20-24-100C combines a remarkably compact footprint with higher efficiency than the existing SolaHD SDN-P line.
these units also have unique visual diagnostic LEDs to show status at a glance. The SDN-C features Active Power Factor Correction and can be DIN rail mounted in a control cabinet. The SDN-C units reduce excess heat in the panel due to their high efficiency and advanced design.
The 20A output single-phase model SDN 20-24-100C is about 50% smaller than the power supply of the previous generation. The SDN-C comes equipped with standard screw terminal connections. The metal outer case is rugged, efficiently dissipates heat, and delivers full power in a wide temperature range from -25°C to +60°C.