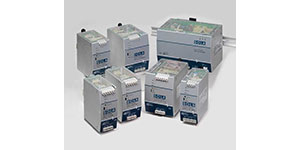 ROSEMONT, IL, November 2, 2011 – SolaHD has introduced the new 5 Amp and 10 Amp three phase DIN rail power supplies to extend the popular line of the SDN-C series. The introduction of these two models now completes the next generation SDN-C line including a wide variety of power supplies ranging from 5A – 20A in the single phase offering to 5A - 40A in the three-phase offering.
Combining a remarkably smaller package with higher efficiency than the legacy SDN-P line, these units also have unique visual diagnostic LEDs to show status at a glance. Designed to be a specification-grade unit that can be DIN rail mounted in a control cabinet, the SDN-C units reduce excess heat in the panel due to their high efficiency and Power Factor Correction advanced design.
The new 5A & 10A output three-phase models, SDN 5-24-480C and SDN 10-24-480C respectively, provide approximately 32% space savings along the DIN rail as compared to the previous generation models SDN 5-24-480 and SDN 10-24-480. The SDN-C comes equipped with standard screw terminal connections. The metal outer case is rugged, efficiently dissipates heat, and delivers full power in a wide temperature range from -25°C to +60°C.
The SDN-C is backed by a five year limited warranty. Prices start at $266.29 list for the 5A three phase, and at $383.53 list for the 10A three phase – shipping to begin mid-November 2011.