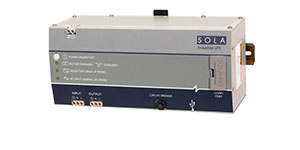 Emerson, a leading supplier of power quality solutions under the SolaHD brand, has introduced the SDU AC - A Series of DIN Rail 120VAC and 230VAC UPS, bringing a higher standard of performance to industrial power protection.
Compact and affordable, the new UPS series helps businesses reduce production losses and maintain maximum output levels by delivering protection from damaging impulses and power interruptions to microprocessor-based devices.
Featuring a new communications port for either networked Industrial Ethernet protocols (example: EtherNet/IP™) and discrete (passive - dry contact relay applications) for digital I/O processing. The SDU AC - A Series optional communication cards provide you the flexibility you desire while saving valuable DIN rail space. Emerson is targeting the new UPS at industries that rely heavily upon robotics, factory automation, PLCs, conveying equipment, CNC machinery, and throughout the Industrial Internet of Things (IIoT) environment.
"Loss of system availability due to a power disturbance translates directly into financial losses for the business, especially those using automated equipment," said Mark Dziedzic, Product Marketing Manager for SolaHD. "Our SDU AC - A Series reliably safeguards highly-sensitive electronic devices from impulses and surges on the factory floor, so continuity of process control is maintained for maximum productivity and profitability."
Featuring unparalleled Off-Line capabilities, the SDU AC - A UPS is the next generation in SolaHD industrial power protection. In the event of a power disturbance, for example, the off-line technology will provide immediate back-up AC for up to four minutes so that processes can safely continue or be safely shut-down minimizing losses. In addition, it protects technology against any array of damaging impulses and surges on the factory floor whenever AC is present. Automatic shutdown is performed by the UPS if overload exceeds 105% of nominal power for 20 seconds, 120% for 10 seconds, and 130% for 3 seconds. In addition, the SDU AC - A UPS is among the few in its price range to feature cold start capability, meaning that the user can start the UPS without AC power to troubleshoot for bad input power.
Because space is always at a premium on a crowded DIN Rail, SolaHD designed the SDU AC - A UPS to be exceptionally compact (4.88 x 11.1 x 4.81 inch) and approximately half the weight of competitive UPS -- yet without compromising its industrial-grade strength. Input and output screw terminals are IP-20 rated, while the wide operating temperature range (0°C to 50°C) qualifies it for installation in virtually any industrial environment, including hazardous locations. The 120VAC models are UL1778 recognized without derating when providing protection in UL508 industrial control applications, enabling operation at the UPS' full capability. SDU AC - A 120VAC and 230VAC models are CE marked for sale within the European Economic Area and North America for panel builders.
Emerson confidently backs both the 120V and 230V models with a two-year warranty. The package includes power management software and cables for fast, simple installations.