MotorShield is TCI's new sinewave output filter
High Performance Motor Protection Output Filter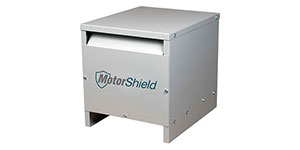 The MotorShield eliminates harmful dv/dt to result in a sine wave output:

• Prevents motor heating and insulation damage
• Greatly extends motor and cable life by reduction of motor noise, vibration, and heat
• Specific applications can reach 15,000 feet


Most 480V MotorShield sine wave filters (up to 305 amps) are available with the option of 2nd day shipping. For 600V applications and higher amp rating, please contact TCI for more details.

Typical Problems, Superior Solutions With MotorShield

As Pulse Width Modulated (PWM) Drives are incorporated into various applications and processes, the increased energy savings and decreased maintenance on variable frequency drives can be offset by increases in motor failures.

High voltage spikes caused by a phenomenon known as reflected wave (dv/dt) occur when there are long cable runs between the drive and the motor. The impedance on either end of the cable run does not match, causing voltage pulses to be reflected back in the direction from which it arrived. As these reflected waves encounter other waves, their values add, causing higher peak voltage.

Peak voltages on a 480 V system can reach 1,600 V. These high peak voltages will cause a rapid breakdown of motor insulation, leading to motor failure.

TCI's MotorShieldTM improves system performance by protecting the motor from the harmful effects of reflected waves and preventing motor failure associated with insulation failure, overheating, and noise.

For Demanding Constant Torque Applications

For demanding constant torque applications, we recommend the MotorGuard Sine Wave Filter.

TCI offers the MotorGuard sine wave filter. This robust, heavy-duty filter delivers reliable sine wave filter performance where a filter with greater application flexibility and performance is needed.

Performance


MotorShield Specifications

• UL and cUL Listed
• Carrier frequencies from 2 kHz to 16 kHz
• System Voltage: 480 VAC
• Ambient Operating Temperature Range: -40° C (-40° F) to 40° C (104° F)
• Distance: up to 15,000 feet
• Enclosure: General Purpose NEMA 1/3R

MotorShield Typical Applications

• Extreme long motor lead lengths: applications can reach 15,000 feet
• Oil & Gas: down hole pumps and deep well drilling pumps
• Water & Wastewater: pumps
• Data Centers
• HVAC systems to reduce audible noise

Industry Applications: Fans & Pumps

The MotorShield is designed to extend motor life in variable torque applications such as fans and pumps with lead lengths up to 15,000 feet. Motors on these systems typically produce a large amount of heat as they run. The MotorShield is the perfect solution to prevent overheating and motor failure.

Performance Guarantee

Properly sized and applied, the addition of a MotorShield Output Filter is guaranteed to bring the application into compliance with NEMA Standards Publication No. MG-1. If the system fails to meet MG-1 standards with the addition of a MotorShield filter, TCI will take back the output filter and pay shipping both ways. This offer is valid for 60 days from installation date.