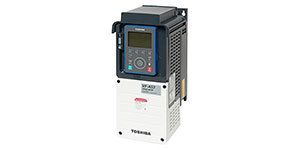 HOUSTON, TX - June 12, 2017 - The newest low voltage adjustable speed drive (ASD) offered by Toshiba International Corporation (TIC) features the most ever built-in communications capabilities available in a Toshiba low voltage ASD. Available now, the AS3 is designed with an emphasis on built-in communications to maximize real-time data provided to end-users in industries such as Oil & Gas, Mining & Minerals, Chemical, and Water/Wastewater. "The AS3 is our latest and more connected than ever low voltage adjustable speed drive," said Brian Keith, senior product manager of low voltage adjustable speed drives at TIC. "Our end-users increasingly demand timely and thorough data in order to optimize efficiency when it comes to operational costs. The AS3 is our solution for efficient and reliable operation." The AS3 is ideal for Industry 4.0/IoT (Internet of Things) applications in industrial and manufacturing markets. Multi-protocol communications channels empower businesses to learn and adjust from data available through connected manufacturing. These channels include dual-port Ethernet IP, Ethernet TCP/IP (embedded), Modbus RTU (embedded), PROFINET, EtherCAT, PROFIBUS-DP, DeviceNET, and CAN open. Through these channels the AS3 is able to easily establish a simple connection of multiple drives on one network. Other features include an embedded web server, built-in LCD display and advanced keypad, QR code alerts, safe-torque off terminal, and more functions enabling end-users to easily manage motor & drive systems. The AS3 can be supplied with additional options to expand control, allow greater flexibility, and provide better protection for applications. Options include AC line reactors, DV/DT long-lead filters, extended terminal cards, encoder feedback cards, harmonic filters, and more. Ideal applications include pumps, fans, compressors, centrifuges, conveyors, mixers, pump jacks, and crushers.
About Toshiba International Corporation
Toshiba International Corporation (TIC) is a Toshiba America Inc. (TAI) Group Company, a wholly owned subsidiary of Toshiba Corporation, and comprised of five divisions - Motors & Drives, Automotive, Power Electronics, Photovoltaics, and Transmission & Distribution. Headquartered in Houston, Texas, TIC provides application solutions to a wide range of industries including general industrial, oil and gas, utilities, datacenters, renewables, HVAC, water/wastewater, and mining. For more information about TIC, please visit www.toshiba.com/tic.
About the TIC Motors & Drives Division
The TIC Motors & Drives division, which offers a full range of low and medium voltage motors, adjustable speed drives, and motor controls, is anchored by a totally integrated manufacturing process; research and development, design, engineering, production and manufacturing, and aftermarket service and support are all commandeered under one single roof. With the capability to test products together as a system before sending out into the field, TIC ensures the highest level of quality, performance, and reliability.