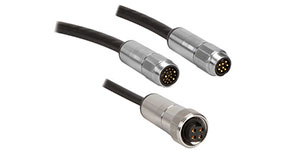 Turck is now offering Minifast HD Connectivity Solutions for Harsh Applications that are in non- hazardous areas. While the original release of the Minifast HD line featured hazardous area approvals, the expanded offering is an ideal option for applications that require a heavy duty connector in non-hazardous zones as well.
The Minifast HD offering provides a 316 stainless steel metal body that is fully potted. This rugged and fully potted combination provides a more robust solution for these applications while also allowing the flexibility to bond with a wide variety of cable types, including many specialty types.
"We heard from many of our customers that were looking for a more reliable and cost-effective heavy duty solution, and that this was a solution they wanted available outside of hazardous areas as well," said Jay Bartsias, Senior Product Manager for Connectivity. "The Minifast HD standard offering gives these customers a solution that is much more rugged than traditional connectors and provides the ultimate protection from environmental conditions."
The Minifast HD offering has an operating temperature from -40 to +105 °C, and is IP67 and IP68 rated. Additionally, it also carries NEMA 1, 3, 4, and 6P approvals.