Communication Rate/Cycle Time

Whenever a metal strain relief cable gland is used, this Nylon Strain Relief Cable Gland can be substituted to save you money
without sacrificing performance. Typical applications are: Control cabinets, car washes, hot tubs, instrumentation, carpet
cleaning machines, food processing equipment, underground for direct burial, and underwater to 300 ft. (150 PSIG).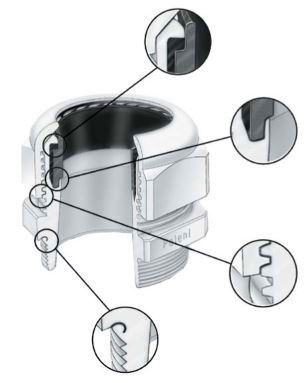 Pull-out Resistance - Protection

Flexible, overlapping clamping splines prevent the form seal from being pulled out of the fitting and offers protection for the cable.

Dependable

Exceeds NEMA 4x and 6 specifications (UL tested). For submersion applications, use an O-Ring or Seal Ring between body and housing. Either tap the housing or secure in panel hole with Locking Nut.

Non-Corrosive

The Nylon strain relief cable glands are resistant to salt water, weak acids, weak alkalis, alcohol, esters, ketones, ether, gasoline, mineral, animal and vegetable oil.

Submersible

The patented recess and high performance seal guarantees NEMA 4x and 6 (IP 68) at 150 PSIG (10 BAR).

Rugged Construction

The rugged lead screw results in a dependable transmission of force between nut and body.

Liquid Tight

The concentric seal ridge and molded groove for an optional O-Ring results in a liquid tight seal between body and housing.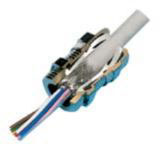 EMI/RFI Proof-Grounded

Termination of the braided shield: Strip cable jacket and braiding to different lengths. For small diameter cables, fold the braided shield back over the cable jacket, insert cable into fitting until it reaches contact point, tighten dome nut.
RFI filters are used to observe EMC requirements as stated in European standard EN 61800-3. This lays down EMC requirements for electric drive systems in various categories. Category C1 applies in public networks (residential areas). In terms of limit values, category C1 corresponds to class B as laid down in EN 55011. Category C2 applies in industrial premises, but also in residential areas if deemed appropriate by the user. In terms of limit values, category C2 corresponds to class A as laid down in EN 55011.