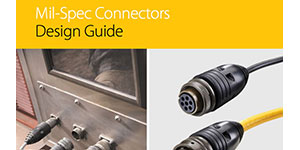 Turck's Mil-Spec Connector Design Guide Catalog (B2406) is now available. This new piece of literature provides an overview of the many Mil-Spec solutions designed by Turck to meet the demands of applications requiring a robust and overmolded connectivity solution.
Turck offers three different connector options for the Mil-Spec product line: threaded (MIL-DTL-5015 Series), bayonet (MIL-DTL-26482 Series), and reverse bayonet (GT Series). The design guide will help users understand the benefits of overmolded Mil-Spec connectors, and assist them in properly selecting the connector type that best fits their needs.
Overmolded Mil-Spec connectors from Turck provide a full range, easy, and quick connection for instrumentation and power applications. These connectors diminish the risk of mis-wiring, allowing you to decrease downtime, use less manual labor on repairs, and save money. The unique over-mold design provides the flexibility to seal the connectors to a wide variety of different cable types.
Working seamlessly with other Turck products, Turck's Mil-Spec connectors offer a full solution for whatever challenges your application might demand.